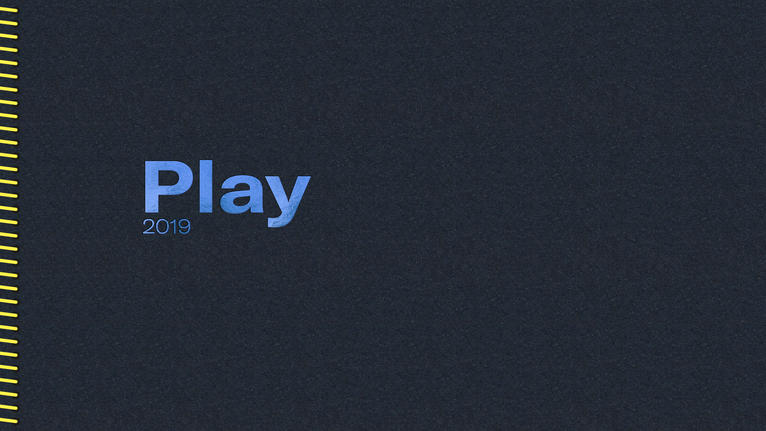 2019 trends explored by Parisian Designers Studio 5.5
Fire your imagination.

And imagine that Tarkett products are no longer seen as mere, albeit technically excellent, floor coverings, but rather as limitless sources of inspiration for Designers and Architects. This is Florian Bougault's mission, artistic director for EMEA. The Play Book, far from a simple catalogue, has been providing a different perspective on vinyl, linoleum, homogeneous vinyl, carpet and other Tarkett floors since 2016. For 2019, we decided to go even further. "Up until now, Play gave an idea of where our Tarkett flooring is installed in office, hospital and hotel environments, to name but a few. This year, we would like to develop a scenography that is more abstract and more inspirational, and to upgrade the quality of our images. So contacting studio 5.5 was an obvious choice." Studio 5.5 is a Paris-based global design collective who designed the interior of Atelier Tarkett on rue de Saintonge in 2017. A space full of surprises, as unique as it is playful, where everything is designed to showcase the potential of Tarkett products.

"We like how these designers see the subject, diverting our attention with intelligence and humour, all while staying true to the products' history. And that is what they did for the Tarkett workshop. The Play Book gave them the freedom to create a showroom... on paper!"
How did you have fun with Tarkett's floors?
Jean-Sébastien Blanc: We approached the Tarkett catalogues as if they were full of games and dove straight in, imagining a dream-like, playful universe that set the creative scene for the Tarkett subjects. After all, the floor might well be considered a play area for architects and designers! Floor coverings are all too often selected based on technical performance and restrictions imposed by architectural standards.
By mixing colour, texture and shape, we created ten settings - ten spaces - which question how each Tarkett product is used. These settings are inspirational, and do not necessarily refer to specific locations: are we in a luxury boutique, a hotel, an office or a museum? It doesn't matter. Our objective is to show the creative potential of Tarkett flooring and to decompartmentalize how each one is used.
"Mark", "Random", "Cut", "Trick"… each scene, or every chapter in the Play Book, explores an architectural gesture. Why?
Jean-Sébastien Blanc: Because each one corresponds to a strong creative gesture, which shall no doubt inspire architects. There are an infinite number of ways of using and thinking about Tarkett floors - not merely their use, but also what they constitute. Tarkett products are characterised by the fact that they can be used where no other flooring can - be it tiling, concrete or any other. It was all of these particular features that we hoped to explore.

What, exactly, is the design potential of Tarkett flooring?
Vincent Baranger: One particular characteristic of Tarkett floors is how easy they are to cut and fit, almost like marquetry. For example, the scene "Cut" shows how you can forge a path or delineate a space that is often busy, and "Mark" incorporates signage, such as numbers or arrows, in the flooring. iD Mixonomi, a range of tiles consisting of 10 geometric shapes in 33 colours that invites you to lay them differently each time, could be considered a type of giant, graphic puzzle.
Jean-Sébastien Blanc: We spent a lot of time working with supple flooring solutions that could be rolled or fitted to curved surfaces, as we hope the scenes "Curve" and "Colors" indicate. Building a rounded wall out of marble would be almost impossible, but a resilient flooring or a carpet roll that imitates marble such as Sense of Marble makes it possible! Ultimately, that is why this type of floor is used consistently to the extent that it is.
You also played around with optical illusions...
Vincent Baranger: We let ourselves be led by what each subject evoked in us. In the "Tricks" scene, the grain on a rough-finish homogeneous vinyl becomes a fine sandy beach, lit up by the reflection from an imaginary window. In "Mark", grey vinyl evokes concrete and transports us to an underground gym, while the pink of the homogeneous vinyl in "Random" draws on strawberry chewing gum, creating an atmosphere that is almost gourmet. We play endlessly with illusion: Take this green lino, which resembles a freshly cut lawn, or this carpet, which seems to reflect droplets of water and makes you want to dive straight in, hence the swimming pool that inspired our "Colour" scene.
Jean-Sébastien Blanc: We created inspiring universes that make you lose your inhibitions and set your imagination free, without necessarily trying to impose a style or trend - we wanted to encourage another way of choosing the subject behind a project. This choice is, of course, partly governed by the technical performance of a product, but we also wanted to encourage the sensation it can make us feel and the senses it can awaken. The textures of some floors interact with our body and others wake up memories of distant places or moments. This creates an environment for a living space full of history where you can feel good – the very definition of comfort.
Why did you choose to continue the floors up the walls?
Jean-Sébastien Blanc: To expand the field of possibility! Play is intended to be a creative manifesto for Tarkett floors. If you are playing with the floor, why not continue with the walls? This is also one of the book's central themes: does interior design mean thinking only of surfaces? The floor, the wall, the ceiling? We are not necessarily advocating the return of carpets on walls... but breaking down boundaries between these architectural surfaces creates new play areas. And as soon as the surfaces disappear, an atmosphere can form and a space is born.
It is also used to give dimension to your scenes...
Vincent Baranger: Absolutely; photographing the flatness of the floor would hold less interest. Play is more than a trend book. It is a real editorial work with polished images that play with layering, with transparency and with typography. So we awarded just as much importance to the shape and shaping of this work as to its content, to reflect the playful spirit we are bringing to life. We want you to enjoy flicking through it, much like you would some children's books. In this sense, Play is a gamebook for architects!
Yet it wasn't the aesthetic behind each subject that inspired you, but the story each one is telling...
Jean-Sébastien Blanc: Our studio stands for design that is narrative, not design that is beautiful. When we selected the different subjects behind the 10 scenes, we weren't thinking "aesthetics" but stories. The idea of upgrading certain subjects, or at least changing the way they are seen and removing prejudices, appealed to us. Why doesn't this pale yellow vinyl, typically seen in Care homes, also evoke sunlight in a large hotel? The materials being used have to complement the story you want to tell. Which universe do we want to create for people, our visitors and our clients? Which experience do we want them to enjoy? This means we can choose any floor, provided it moves us in some way.
Vincent Baranger: If Tarkett floors excel on a technical level - their floorings are widely used in hospitals, schools and stadiums - they must also have other stories to tell. With Play, we wanted to open up how we think about and use them. Creating a diversion towards reinvention.
How did you conceive the design for the Tarkett Atelier, rue de Saintonge?
Vincent Baranger: We wanted to create more than a simple showroom - a catalogue on an architectural scale. A space where everything is pretext, to show the potential of Tarkett products. So we created a large library of materials, classified not by floor type but by colour. If you look at blue, the vinyls, carpets, homogeneous vinyls and linoleums are displayed together; real parquet is mixed with imitations. The showroom also has an ID Lab, a sort of extension of an architect's office, where he or she can come to work, to acquire subjects and test combinations...
Jean-Sébastien Blanc: Some of the furnishings have even been built with Tarkett flooring, to show the subject in another light. There is a large wooden marquetry table with four types of parquet, a seat made from squares of carpet, rolls of vinyl as stools... An art form based on the diversion and playing that we wanted to recreate in the Play Book.