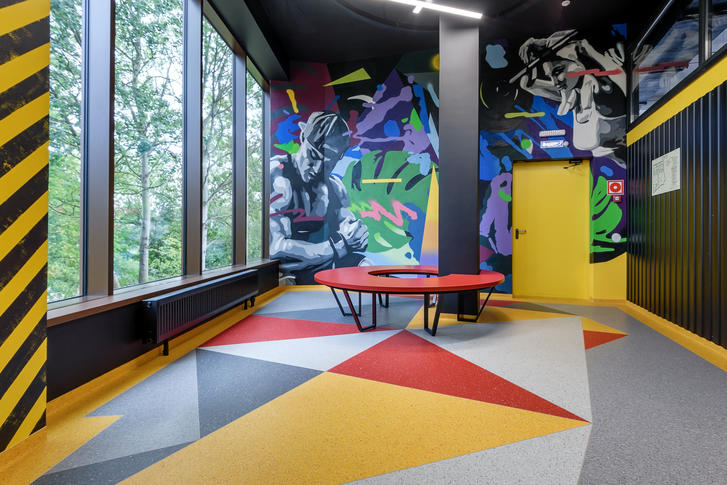 Atletika Fitness-Centre for exercising and relaxing
2018 | Kaliningrad, Russia
Along with modern equipment, the fitness studio offers a dynamic sports atmosphere thanks to its ingenious approach and creative interior solutions, combined to make the training process more enjoyable and effective!
The project, designed by Russian architect Dmitriy Terletskiy, included a special focus on the original artwork on the walls that reflects the specificities of every space, whether rooms for cross-fit, cardio or offices. TED SHOWROOM, the distributor of Tarkett and Desso floor coverings in the Kaliningrad Region, complemented this space-zoning concept via flooring installation of various colors and textures.
Colour Inspiration
Colourful Tarkett vinyl floorings iQ Granit and iQ Eminent were installed in the highest traffic areas as gym classes, corridors and locker rooms. These collections make an eye-catching statement in the overall design. The upscale hues of the black and grey used as a base color and the citrus tones as a bold accent give the design some energetic vibe and freshness. Moreover, Tarkett iQ collections are unique for their extreme durability and superior resistance to wear, stain and abrasion – that makes them the perfect choice for heavy traffic applications.
Solution for wetrooms
The shower area was decorated with a combination of modern waterproof wall covering Aquarelle Walls HFS Vogue and coordinated vinyl floor Granit Multisafe with heightened anti-slip properties. The installation of these hygienic coverings ensures overall safety and easy maintenance for a long time.
Upscale design and respect for the environment
Tarkett luxury vinyl tiles ID Inspiration 55 with deep trendy dark shades bring impeccable style to the sports bar space. Such characteristics as extreme durability, easy maintenance and high resistance to liquids or sharp objects, for example, heels or chair legs, were crucial when choosing Tarkett materials for this busy area.
An equally stylish and comfrotable design atmosphere was achieved in the office part of the Fitness Centre. JEANS carpet tiles by DESSO embody the acoustic and tactile comfort along with timeless aesthetics of denim, that make the office design sophisticated without being too serious. DESSO Palatino collection with playful colour combinations was installed in a playroom for kids in order to create a fun and vibrant environment with a high level of safety and comfort.
Following the Cradle to Cradle philosophy, Tarkett and Desso have implemented an eco-innovation and promote circular economy, thus contributing to create people-friendly spaces. The applicable Phthalate free technology to all Tarkett vinyl floorings ensure improved indoor air quality with the lowest level of VOC emissions. DESSO carpet collections are manufactured with EcoBase backing that contains regenerated nylon strings. In this way, Tarkett and DESSO products are not only about creating distinctive upscale interiors, but also taking on the great responsibility for the future generations and our environment.
About
The ATLETIKA Fitness-Centre is a new three-stores sports club in the town of Kaliningrad with limitless opportunities for exercising and inspiration thanks to space-zoning concept.
Designer/ Architect
Dmitriy Terletskiy
Building owner
"ATLETIKA" Fitness Centre