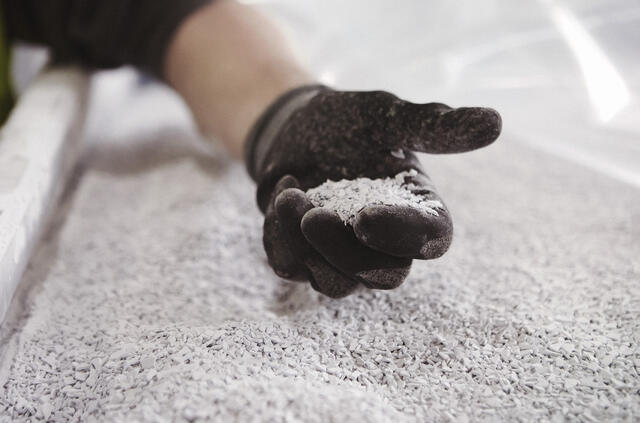 Can vinyl flooring post-use materials be recycled?
At Tarkett, we're continuously finding new ways to recapture and recycle our flooring, as we strive towards closing the loop on our products. We have been able to recycle post-installation vinyl flooring as well as post-installation and post-use carpet and linoleum flooring for many years. 102,000 tons of flooring were collected from 2010 to 2018 through ReStart®, Tarkett's flooring collecting and recycling program in Europe and North-America. However, we faced more challenges in the safe recycling of vinyl flooring, and hadn't been able to recycle post-use vinyl floors – until now.
We are piloting an in-house developed solution to recycle all Tarkett homogeneous vinyl flooring produced from 2011 onwards, expanding the recycling options we offer to customers, as post-installation vinyl offcuts represent 8 to 10% of the flooring provided to a building site, and making a further stride towards promoting circular solutions.
We announced the news at Milan Design Week in April 2019, where we launched our new product, iQ Surface.
So how did we achieve this breakthrough?
We'd previously faced a technical challenge in separating glue and concrete from post-use homogeneous waste flooring. With few high-performing plants in Europe available to offer this service and with a company-wide goal to only recycle positively defined materials by 2020, we had no time to loose in making progress on recycling phthalate-free vinyl flooring. We decided the best option would be to develop our own process, so we could tailor it to our needs and ensure the high quality and environmental performance we required.

Collaborating across our company, our employees worked outside of the box to develop a new proprietary technique. We customised specialist machinery to clean and recycle shredded post-use vinyl. We tested and improved the solution over approximately eight months to create vinyl granules that could be integrated into new homogeneous flooring. The granules offer the same properties and deliver the same performance as virgin raw materials, conserving natural resources and creating a lower impact on the environment, compared to using virgin raw materials. Indeed, VinylPlus indicates that every tonne of vinyl recovered saves two tonnes of carbon emissions.
Scaling up
Importantly, we continue to fine-tune our equipment and improve the efficiency of the process. But it is not the only lead we are pursuing. We are looking at many options allowing us to think that scaling up those processes might be just around the corner. Our first challenge in creating a growing supply of post-use flooring for recycling is raising awareness among our customers. It's important that we let them know they can now return Tarkett homogeneous vinyl flooring for recycling2. We'll communicate this transparently through our sales and marketing efforts, and via our advocacy work with policymakers.
To re-capture the flooring from our customers in a streamlined way, we're also exploring partnerships with both internal and external logistics partners, and trusted demolition or recycling companies.
For now, this project remains a pilot project in the Nordics, but we have big ambitions for the future, and it's possible that one day, we'd have enough post-use flooring to create the choice of materials and colours we'd need to create flooring with a high proportion of recycled vinyl.
Adding value by closing the loop
Recycling post-use homogeneous flooring is just one of the ways in which Tarkett is striving to close the loop and drive collaboration. We have also developed proprietary separation and recycling facilities in the Netherlands to recycle carpets that will be fully operational November 2019. Ultimately, we believe that making improvements of this kind adds significant value for our customers, while conserving natural resources and protecting the environment.
Learn more about Tarkett's sustainability strategy, Doing Good. Together
See our latest iQ Surface vinyl floor and wall covering range.