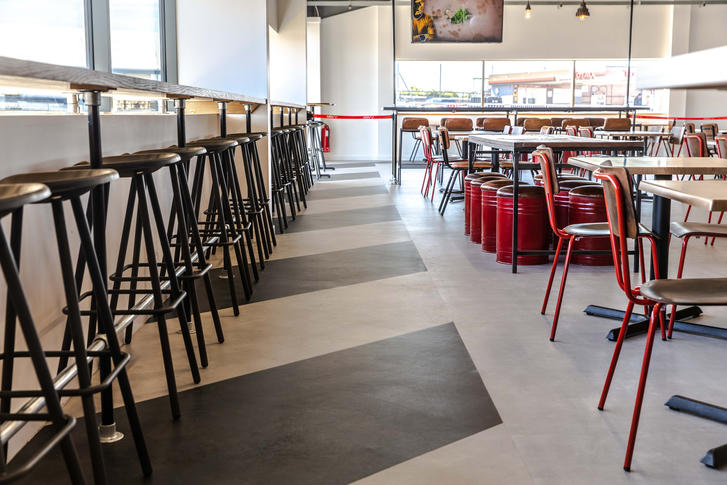 Donington Park
2018 | Castle Donington, UK
As the oldest UK motor racing venue still in operation, Donington Park has been at the centre of high-octane Grand Prix action since 1931. Throughout its long history, this popular venue has seen a number of refurbishments and renovations to maintain its pole position amongst the top race tracks in Britain and across the world. Now owned and operated by the prestigious MotorSport Vision (MSV) Group, Donington Park has benefited tremendously from huge investment in recent months to update and enhance the venue in line with MSV's other circuits. Having previously worked with Tarkett on other projects, MSV was keen to rekindle its partnership when it came to choosing a high quality flooring solution for its new restaurant at Donington Park.
Giles Butterfield, Group Operations & Engineering Manager at MotorSport Vision, comments: " We needed a hard-wearing surface that could cope with high-volume footfall in all weathers whilst complementing the overall look and feel of the new restaurant. Tarkett has taken our brief and delivered with an installation that completely fits the bill ".
Working closely with the award-winning Kinnersely Kent Design, who oversaw the site refurbishment process, and professional flooring specialist, Alex Bugler (APA Contracts), Tarkett created a smart and eye-catching design using a combination of safety flooring and luxury vinyl tiles to superb effect. Tarkett provided 144m2 of Safetred ION Linen in Sky Blue for the preparation areas and behind the counters, also 62m2 of Safetred Natural in Rock Steel for the serving areas. These products were selected to provide a hardwearing yet attractive flooring option, incorporating superior particle enhanced R10 slip resistance – offering both safety and practicality.
For the higher spec areas they selected Tarkett's latest innovation in modular vinyl tiles - iD Supernature - a new collection using advanced in-house digital printing technology. With exclusive and lifelike fine wood and stone effect textures, it afforded a scuff and stain resistant flooring solution for high traffic areas. Around 620m2 from the Patina Concrete design in Ashen, Anthracite and Silver colourways were selected in conjunction with KKD to complement their design vision. Due to the size of the area, it also became viable to employ the new 1m x 1.5m tile format for the first time in any UK installation.
The result is a beautiful, high-performance flooring solution which is sure to keep Donington Park ahead of the pack.
For further information and images DOWNLOAD the case study (15MB PDF)
About
A stunning finish at the Donington Park Race Circuit: eye-catching design that combines safety flooring and luxury vinyl tiles to superb effect.